Infos zu FortiClient VPN/ZTNA, EPP/APT & Managed Lizenzierung sind im FortiClient Ordering Guide via Fortinet Partner Portal verfügbar und das aktuelle FortiClient Datenblatt finden Sie jeweils auf unserer BOLL Hompage unter Fortinet Produkte.
Bedarfsabklärung in 5 Schritten
1. Bestimmen Sie den gewünschten Gerätetyp

2. EMS Einsatz Optionen

3. Prüfen ob Endgeräteschutz oder nur ein Fernzugriff erforderlich ist
4. Anzahl der vom Kunden benötigten Arbeitsplätze / Endpunkte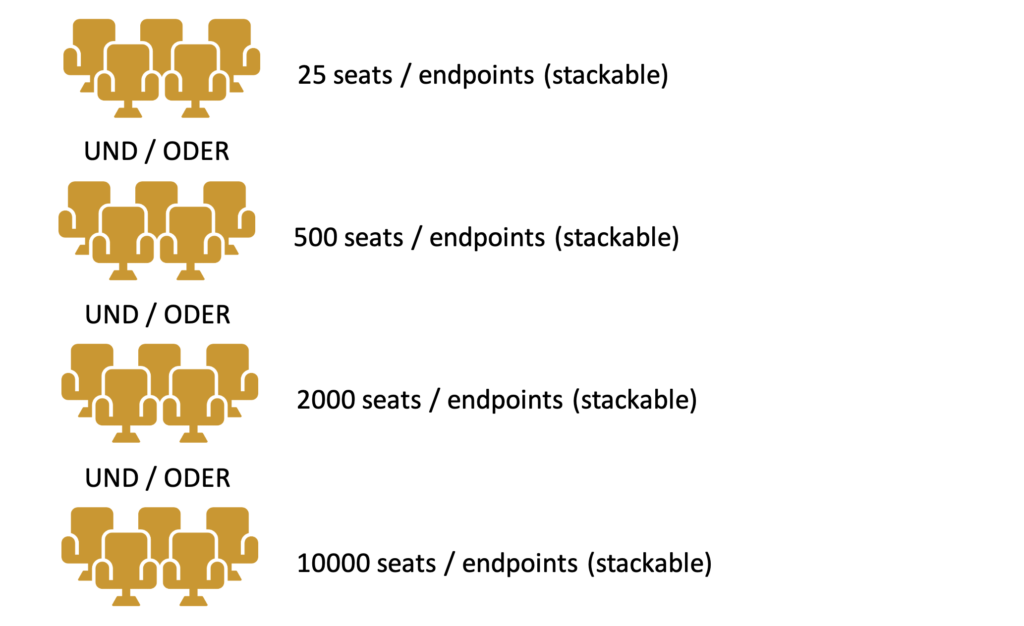 5. Überprüfen, ob eine Dienstleistung erforderlich ist (optional)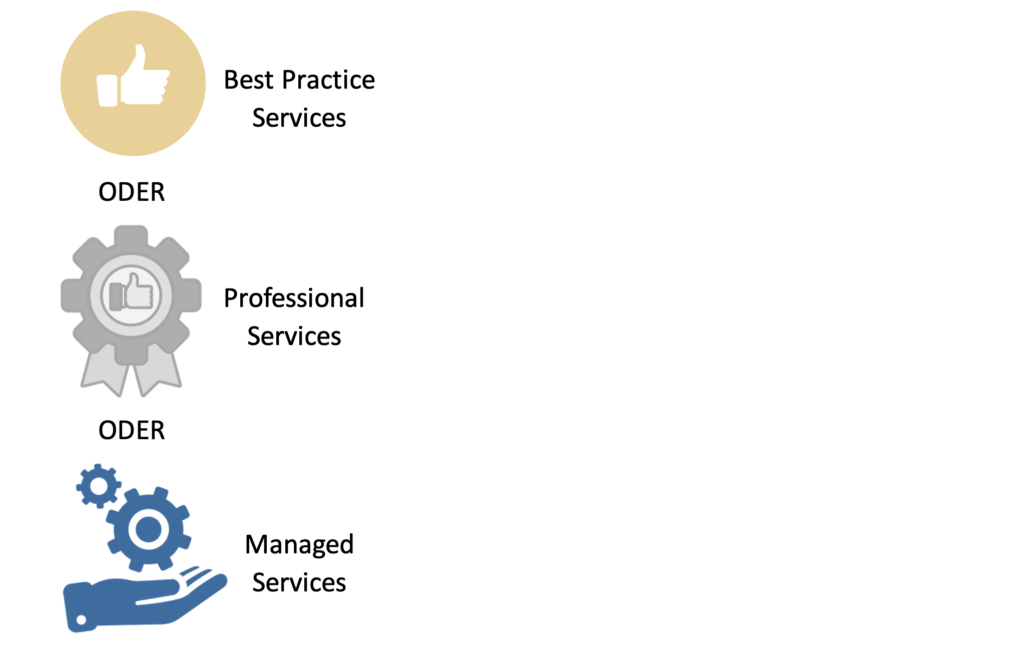 Best Practice Service (optional)
FortiCare Best Practice Services erleichtern die schnelle Einführung neuer Funktionen und Upgrades bestehender Technologien. Das Abonnement umfasst einen optimierten Zugang zu Spezialisten, die gezielte Empfehlungen für Ihre Inbetriebnahme, Konfigurationsbeispiele und praktische Ratschläge für die Nutzung gängiger Funktionen geben können.
Dies ist ein reiner Beratungs- und Unterstützungsdienst. Der TAC-Ingenieur loggt sich nicht in Ihre Geräte ein, um dort Änderungen vorzunehmen, kann jedoch Beispielkonfigurationen oder Playbooks bereitstellen, die der Kunde importieren kann.
Der BPS-Service wird für neue Kunden empfohlen, um eine erfolgreiche und reibungslose Einführung zu ermöglichen, ist aber nicht zwingend erforderlich.
Verfügbar für 1 Jahr / 3 Jahre / 5 Jahre
Managed FortiClient
Dies ist eine SKU, die für FortiClient Cloud angeboten wird und ZTNA/VPN, EPP/ATP und FortiClient Managed Service umfasst.
SLAs für Managed Service:
– Die erste Antwort erfolgt am nächsten Arbeitstag. Der Service erfolgt über das Nordamerika-Team (EMEA/APAC in naher Zukunft).
– Servicebeschreibung ähnlich wie bei BPS.
Der Managed Service wird von einem Unterteam von Fortinet ETAC durchgeführt und umfasst Folgendes:
Ersteinrichtung von FortiClient Cloud EMS für den Kunden
Konfigurieren von EMS und Bereitstellen von Sicherheitsprofilen für Endpunkte (alles einrichten und dann übergeben)
Einrichtung der Security Fabric (Konfiguration der EMS-Seite und Anleitung für andere Produkte)
Fortlaufende Überwachung von Schwachstellen mit Benachrichtigung der Kunden über kritische Aktionspunkte
Endpoint Security Monitoring mit Outbreak Alert-Benachrichtigung (Benachrichtigung des Kunden bei kritischen Ereignissen und bei verdächtigen/kompromittierten Endpunkten, die von Threading-Bedrohungskampagnen betroffen sind)
Fortlaufende Beratung zu FortiClient/EMS-Produktfunktionen und Upgrades
Endpunkt-Einführung
FAQ: Lizenzierung (Aktualisierung der Firmware auf v7.0)
Was passiert, wenn EMS mit v6.4 SKUs ohne Lizenzmigration auf v7.0 aktualisiert wird?
Bestehende Lizenz wird beibehalten
Die Funktionen werden beibehalten (z.B. EPP ist weiterhin verfügbar)
Die neue ZTNA-Funktion wird auch mit v6.4 SKUs verfügbar sein
Hinweis:
Mix & Match zwischen v6.4-Bundles und v7.0-Bundles ist nicht möglich
v6.4 SKUs können weiterhin zur Erneuerung erworben werden, aber neue Installationen werden mit neuen v7.0 SKUs durchgeführt.
Wie migriere ich v6.4 SKUs zuneuen v7.0 SKUs?
Kann vom Kunden direkt durchgeführt werden über https://support.fortinet.com > Asset
Kein Rollback der Lizenzmigration möglich!
In der neuen Bundle-SKU haben wir eine neue Stufe für EPP/ATP-Funktionen, so dass der Kunde bei der Umwandlung einer reinen Fabric Agent-Lizenz in eine neue ZTNA Agent-Lizenz

nach der Umwandlung keine EPP-Funktionen mehr

erhält.
Wenn der Kunde derzeit über eine Lizenz für Fabric Agent + Cloud Sandbox verfügt,

verliert er nach der Umwandlung KEINE Funktionen

und erhält die Berechtigung für FortiClient ZTNA Agent + EPP/ATP.

FortiClient EMS Upgrade

You only need to convert your license if you have new ZTNA license that needs to be applied, otherwise please do not convert.

The new FortiClient bundle license has changed the features included in different license types. Mainly, the EPP features are not part of the base Fabric/ZTNA Agent license anymore, so please review the datasheet and release notes to confirm the licensing changes are acceptable before converting your license to new FortiClient bundle license. Once converted to FortiClient ZTNA bundled licenses it cannot be reverted to old license. If you proceed then your FortiClient EMS license will convert old FortiClient license to the new FortiClient ZTNA bundled license (this cannot be reverted). During the upgrade your current license (FCTEMSxxxx) will be cancelled and replaced by a new bundled license. After upgrade you can only use FortiClient EMS v6.4.3 or later.

Note: If you have any support contracts purchased for this product which are not yet activated, please register them prior to converting your license. Old contracts will not be compatible with the new bundled licenses (v7.0+).
- I agree and understand
- I am buying new ZTNA bundle license
- You understand EPP features are not part of ZTNA Base license

If you need further clarification then please contact customer service.
Vergleich der Lizenzpakete

Co-term vs Stackable Licenses vs Mix&Match
[v6.2] Adding more seats with old v6.2 required a co-term of expiration date
[v6.2] Be aware: There are old (not stackable) and new (stackable) v6.2. SKUs
FC1-15-EMS01-297-02 = old 6.2 license, not stackable
FC1-15-EMS01-297-01 = newer 6.2/6.4 license, stackable
[v6.2] Old 6.2 SKUs cannot run on firmware 6.4 or 7.0
[v6.4/v7.0] New stackable licenses don't need co-term to add new seats
[v6.4/v7.0] New licenses will have a different expiration date than the original ones
[v7.0] Allow to Mix&Match bundles e.g. 500 seats ZTNA/VPN + 25 seats EPP/ATP
Für ein Co-Term oder Renewal, sowie Erweiterung der Anzahl Seats empfehlen wir bei uns via fortinet_sales@boll.ch eine Offerte Anzufragen.

Ergänzende Infos zu «Free Trial-Lizenz»
Fortinet hat in der Fortinet Document Library folgenden VM Trial License Guides verlinkt:
FortiClient EMS – Free Trial License